Tall Ships Youth Trust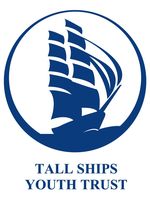 The development of young people is central to everything we do and we are proud of our excellent reputation for providing good qualityservices to young people.
All of our vessels are operated to the same high standards eg thesame safeguarding and child protection policy, code of conduct, drug and alcohol policy; the same rigorous recruitment and screening of prospective volunteers. Sailing as part of a Tall Ships crew makes for a participative and empowering experience and our fleet provides a unique, physically and mentally challenging residential setting in which young people can explore their true potential.
Outcomes include:-
Increased self esteem and self confidence
Healthier, more active lifestyle
Improved life skills
Improved citizenship skills
Making a Difference
Externally validated, statistical evaluations of outcomes provide empirical evidence of improvements in life skills:-
Over 95% enjoyed the voyage and had fun
Over 95% experienced increased confidence and self-esteem
Over 90% were better team players
Over 85% gained life experience
Over 80% were better communicators
Over 75% developed greater self-reliance
Over 70% improved their problem solving skills
http://tallships.org/about-us/youth-work/