Trent Bridge Community Trust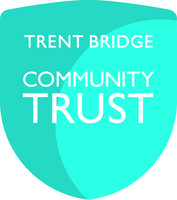 We share a mission of mutual prosperity with Nottinghamshire County Cricket Club, a first class county playing professional cricket at the highest level, and Trent Bridge, the Club's historic home and a regular venue for international cricket.
Trent Bridge and Nottinghamshire County Cricket Club remain committed to raising the profile of the Trust and made a decision to forego commercial sponsorship of YB40 playing shirts in 2013 in order to expose the brand and the work of the Trust to a new audience.
Our fortunes are intrinsically linked. All Trust staff are directly employed by Nottinghamshire County Cricket Club allowing commercial partners and grant aiding bodies to have confidence that every penny they provide makes an impact in frontline community schemes.
The Trent Bridge Community Trust relies on grants and donations to sustain its programmes. We love to hear from commercial organisations who want to discuss partnerships, individuals who want to take part in a sponsored event on our behalf and workplace teams who want to take part in community pride projects.
http://www.trentbridge.co.uk